Sophie er bygda sin vakreste jente, det er ingen tvil om det. Hun bruker all sin tid på å sørge for at hun ser perfekt ut for i år er det året forbannelsen trer i kraft. Hvert 4. år, den 11. dagen i den 11. måneden blir to barn kidnappet fra bygda. Den snilleste og vakreste og den styggeste og slemmeste og selv om bygda aldri treffer dem igjen vet de at de blir plassert i skolen for de gode og de onde og innimellom dukker opp i eventyrbøkene i bygda. 
Sophie vet at hun er for vakker og perfekt til å leve i den stille bygda og gleder seg til skolemesteren kommer for å hente henne. Mens de andre barna gjør rampestreker eller gjør seg stygge, fjerner hun plankene foran vinduene sine slik at kidnappingen skal gå lettere. Selvfølgelig er hun nervøs for at han skal velge en av de andre jentene i bygda, en av de som lager mat for faren sin, mater de fattige eller steller med dyr, men ingen av dem er så vakker som henne og hun har jo gjort sine gode gjerninger også. Hun gir faren kanskje ikke det han ønsker seg til mat, men det hun spiser så han kan holde seg tynn og vakker som henne. Hun bevist unngår å gi mat til dama som tigger på torget fordi hun er feit og trenger mindre å spise, men sist og ikke minst, hun er venn med heksa.
Det å være sammen med Agatha som bor på kirkegården og ikke har noen venner er hun sikker på at vil være den avgjørende faktoren.
Når jentene går sammen bortover veien sammen er de fleste sikker på at det er de to som vil bli tatt. Vakre Sophie til skolen for de gode for å bli prinsesse og stygge og ustelte Agatha som bare går i svart til skolen for de onde. Den natten kommer skolemesteren å henter Sophie, men tar ikke med seg Agatha. Agatha kan ikke forestille seg et liv uten venninnen sin og jager etter han for å redde Sophie. Det gikk som bygda trodde og begge jentene blir slengt inn i en magisk verden hvor prinsesser, hekser, magi og monstre er ekte. Problemet er bare at Agatha ble plassert i skolen for de gode og Sophie i skolen for de onde. Mens Agatha jobber for å få dem hjem, prøver Sophie å overbevise alle om at de har blitt byttet om så hun kommer inn på sin skole.
Dette er en barnebok, men som mange andre gode barnebøker er det ingen hinder. Denne boka tar tak i alle fordommer og tanker om snill og god. Den sender oss inn i en historie i en historie i en historie og du virkelig lurer på hvordan det skal ende til slutt. For mens boka fortsetter innser du at det finnes ingen «riktig» avslutning. Du heier på alle og støtter alle, du vet rett og slett ikke hvem som er gode og hvem som er onde til slutt. Jeg rett og slett elsket den.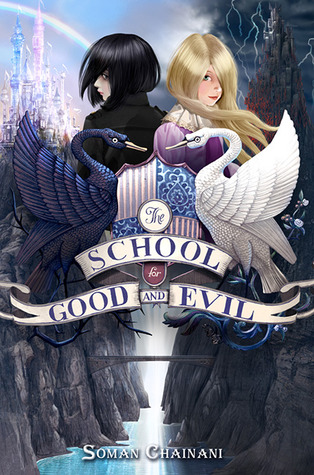 bilde fra goodreads